Dr. Adam James McClure
Adam was born and raised in Northern Virginia. His father, Dr. James McClure, owned Northside for several decades so Adam spent much of his childhood at the clinic. Adam graduated from Fairfax High School in 1993 and headed north to Cornell University to study Animal Science. He remained at Cornell for his veterinary degree, which he earned in 2000. While in school Adam performed research in a variety of fields including equine and bovine reproductive physiology. Although this instilled a profound respect for farm animal practitioners, Adam decided to return to his roots and moved back to the metropolitan DC area to pursue small animal private practice. He joined Northside in April of 2001, replacing his father who decided to retire after 32 years of practice.
Adam's particular areas of interest include preventative medicine and general surgery. He strongly feels that an open, honest and friendly relationship with clients is the basis of preventative medicine. Being available to readily answer any questions and taking the time to explain how to prevent problems is an important part of his practice philosophy.
Adam's interests outside of veterinary medicine include spending time with his children (Catherine and James), 3 dogs (Idgie, Yoda and Mitsy) and cat (Slash - named for the guitarist, not his disposition!). Activities with the kids include playing sports (basketball and triathlons are favorites), as well as going to parks and museums (the Udvar-Hazy Air and Space Museum is a favorite!).
Dr. Fiona Helen McClure BVSc, MVSc, MACVS, DipACVIM (small animal internal medicine)
Dr. Fiona McClure was born and raised in Christchurch, New Zealand. She attended veterinary school at Massey University in Palmerston North, New Zealand. After graduating in 1991, she practiced as a small animal general practitioner in Christchurch for 3 years. She returned to Massey University in 1994 to complete a 3 year internship/residency in small animal medicine, at the same time completing her Masters of Veterinary Science and attaining specialist qualifications with the Australian College of Veterinary Scientists. In 1997 she traveled to Cornell University, New York for a 2 year residency in small animal internal medicine and followed this with a 1 year fellowship in feline medicine with the Cornell Feline Health Center. She became a Diplomate of the American College of Veterinary Internal Medicine in small animal internal medicine in 2000 (specialist qualification). Fiona practiced her specialty of internal medicine for 5 years at SouthPaws Veterinary Specialists and Referral Center, where she was senior Internist for the last 3 of the 5 years. After the birth of their daughter, Catherine, Fiona began working at Northside Veterinary Clinic with Adam in April 2006.
Fiona has special interest in gastroenterology and endoscopy (diagnostic and foreign body retrieval), liver disease, Cushing's disease and autoimmune problems in cats and dogs. Outside of veterinary medicine she enjoys spending time with her family (2 children, Catherine and James), playing with her 3 dogs and cat, taking long walks, swimming, working out at the gym, competing in triathlons and playing the bass guitar.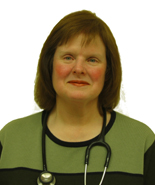 Dr. Mary Elizabeth Hahn
Mary is also a native of the Washington Metropolitan area. She completed undergraduate studies in music at Longwood College in Farmville, Virginia, but not long after decided to pursue a career in veterinary medicine. Mary graduated from the Virginia-Maryland Regional College of Veterinary Medicine in Blacksburg, Virginia in May 1988 and joined the Northside family several months later.
Mary was active in the Cat Fancy for many years as a breeder and exhibitor of American Shorthair cats; she continues to delight in the company of her beloved Americans who are now enjoying their retirement. When not working at Northside, Mary maintains a busy singing schedule with her church choir. Other favorite pastimes include birdwatching, walking and equestrian sports.